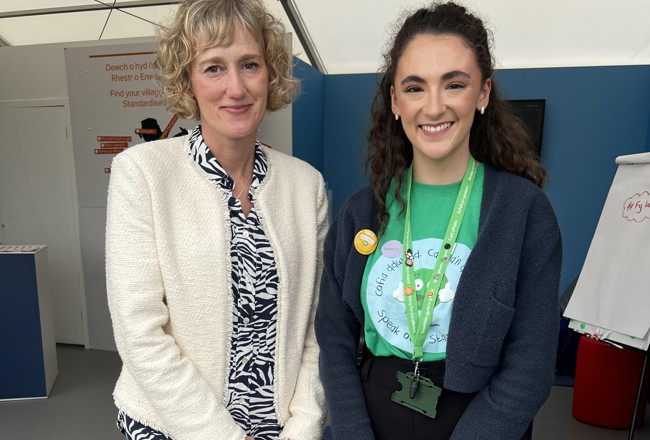 The Welsh Language Commissioner's Office will help raise vital funds for NSPCC Cymru, after announcing the children's organisation as its charity of the year.
The announcement was made today (Wednesday August 9) at the Llŷn ac Eifionydd National Eisteddfod in Boduan, Gwynedd, where NSPCC Cymru staff attended the Commissioner's stall on the Maes.
The Welsh Language Commissioner's Office has a regulatory role in ensuring organisations keep to certain standards, while also promoting the use of the Welsh language in everyday life.   
Its decision to adopt NSPCC Cymru as its sponsored charity this year reflects a close working relationship between the two organisations which began with a joint Welsh Language Progress Plan in 2018.
Last year NSPCC Cymru was officially recognised for its commitment to the Welsh language by being awarded the commissioner's Cynnig Cymraeg commendation for the progress it was making in offering services to children and young people in Welsh.
The charity  provides Welsh speaking counsellors for children using its Childline service and a Welsh email response service for the adult Helpline, while  popular resources and lesson plans designed for schools are also available in Welsh.
In supporting NSPCC Cymru, the commissioner's office hopes that its involvement in fundraising events and activities over the next 12 months will help boost NSPCC resources as the organisation is 90 per cent dependant on donations to keep services running.
Efa Gruffudd Jones, Welsh Language Commissioner said; "We are very proud to announce that NSPCC Cymru is the Welsh Language Commissioner's charity of the year.
"Their work ensures that our children and young people feel safe and that there are people there to listen to them and support them. It is great that these services are available in Welsh.
"I welcome NSPCC Cymru's commitment to use the Welsh language in their day-to-day work and I am proud that they are part of our Cynnig Cymraeg (Welsh Offer scheme). The Cynnig Cymraeg increases the use of the Welsh language among charities and businesses.
"We will collaborate with the NSPCC to promote their Welsh language services and support them as they continue with the important work of educating the public, and of supporting and protecting children in Wales."
NSPCC staff were present on the Welsh Language Commissioner's stand on the Eisteddfod field today (Wednesday, August 9) to highlight their crucial work and offer various activities for children and families attending the Eisteddfod.
Tracey Holdsworth, Assistant Director at NSPCC Cymru said; "We are delighted to be the Welsh Language Commissioner's sponsored charity for the year. We recognise that Welsh is the preferred language for some of NSPCC's service users, supporters, volunteers and staff and we are proud of our success in securing more services through the medium of Welsh, and of our continued work with the commissioner's office.
"Fundraising and donations are pivotal to the way we provide such important services to children and young people throughout Wales and we are looking forward to an even more succesful partnership over the coming months."
NSPCC Cymru/ Wales is urging anyone with concerns about a child's welfare or safety, even if they are unsure, to contact the NSPCC Helpline to speak to one of the charity's professionals. People can call 0808 800 5000, email help@nspcc.org.uk or fill in the online form.