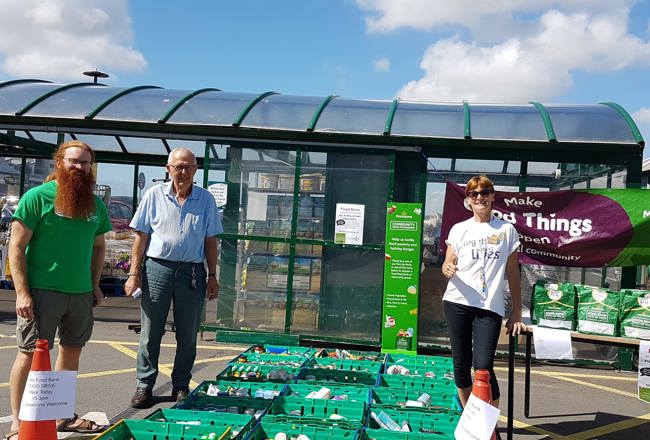 The Arfon Food Bank is a charity established by local churches and community groups, who work together towards preventing hunger in their local area. It is part of a national network of food banks, supported by the Trussell Trust, which works to fight poverty and hunger across the UK. Here Joanna Hillier, Arfon Food Bank Program Assistant, discusses the importance of the Cynnig Cymraeg to her work. 
Welsh at the heart of the work 
Our food bank has served our community in Welsh since we opened in 2012. However, last year we decided that our staff and volunteers could benefit from having a translation policy. We did a quick search online to see if other charities had a scheme in place and found several with recognition of the Cynnig Cymraeg.  
After contacting the Commissioner's office, we heard from one of the officers Guto Jones, who explained the whole process of the development plan. After we explained a little about our work and our aspirations in terms of developing our Welsh language services, we were helped to draw up a plan with realistic tasks and timelines that we felt confident to achieve and present to the Commissioner. Naturally some adjustments needed to be made but the process was very smooth, and we were delighted to receive recognition from the Commissioner shortly afterwards, at the beginning of March 2023. 
Why is the Cynnig Cymraeg important to you?  
Receiving the Cynnig Cymraeg enables us to officially demonstrate our commitment to providing our services in Welsh. Not only do most of our staff and volunteers speak Welsh, but so do a large number of our clients. As we have recently expanded our programs to include a financial inclusion and referral project, we need to ensure that the barriers for our clients are reduced as much as possible. By supporting food bank clients bilingually, we can provide the necessary resources to support them in the long term. 
What is the benefit for you of receiving the Cynnig Cymraeg? 
The Cynnig Cymraeg reinforces the value we place in providing our services in Welsh to the users of the food bank, but also to our supporters and partners. The process has also connected us with other organisations who are also working on their plans. We have contacted Cardiff Food Bank to review the similarities and differences between our plans, and we will continue to work together to share resources and promote the provision of Welsh services to other food banks as well. We have also received free resources from the Commissioner to help us achieve our goals. 
Would you encourage others to try the Cynnig Cymraeg, and why? 
We would encourage anyone interested in improving their Welsh services to go for the Cynnig Cymraeg. The team were great to work with and understood our situation as a small organisation. With their help, we succeeded in developing a plan that reflected not only our current Welsh offer, but practical goals to expand our provision as well. We are proud to have joined a community of businesses and organisations that are committed to using the Welsh language. 
What three things can you offer Service users in Welsh? 
Staff and volunteers are available to communicate in Welsh whether in person, over the phone, or via email.

 

Social media posts are shared bilingually, and Welsh language comments are responded to in Welsh

 

We strive to make any publications from the foodbank, such as e-newsletters and blog posts, available in Welsh.