The Iaith Gwaith (Working Welsh) scheme and the orange speech bubble badge is used to show if a person can speak Welsh.
The scheme is well established in Wales. Employees who can offer a Welsh language service can wear a Iaith Gwaith badge or lanyard. On average we distribute around 54,500 badges, lanyards and posters annually. Since launching in 2005, the bubble has been used in a variety of creative ways, for example sewed on hospital workers' uniforms,  on engineers' helmets, and on temporary glitter tattoos for children. 
Since 2005 the orange badge has been used in various ways, on NHS uniforms, on work helmets, and stick on tattoos for children.
Cleachdi!
It has also inspired Scotland to adopt a similar scheme. In October 2019 Bòrd na Gàidhlig (Gaelic Language Board) launched a blue bubble to encourage Gaelic speakers to inform others that they were able to speak the language.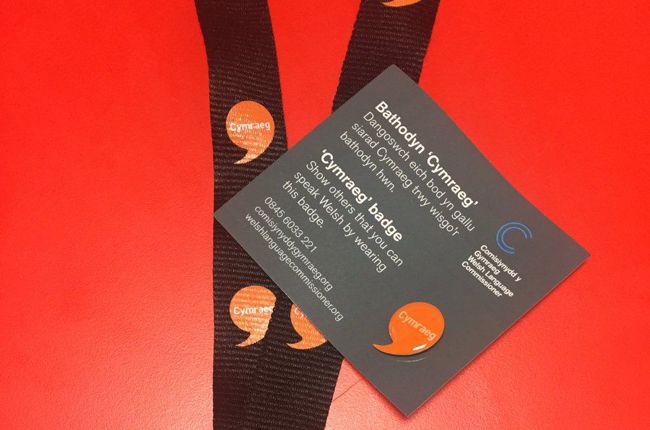 If you would like to order Iaith Gwaith badges for staff who can speak Welsh in your business, organisation or company, you are welcome to contact us. Please fill in the form, provide all your details, and allow between 14 and 21 working days for delivery.