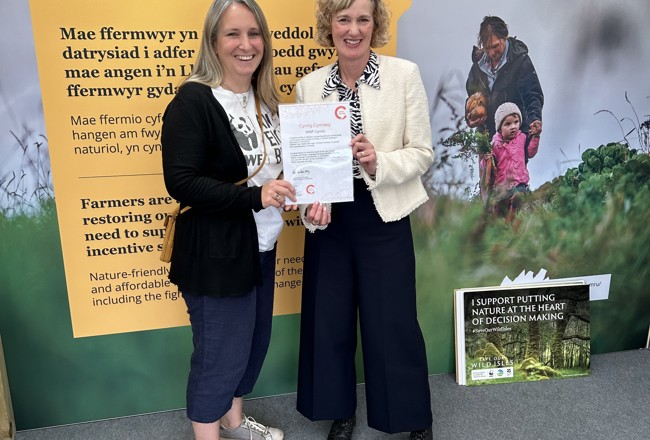 WWF is one of the world's largest independent charitable conservation organisations, operating in nearly 100 countries. The supporters help to restore nature and tackle the main causes of nature's decline, in particular the food system and climate change. 
WWF Cymru is part of WWF-UK with an office in Cardiff, and staff located across Wales and half the team are either fluent Welsh speakers or new speakers. In Wales they work on acting for and tackling the climate and nature crises at home and abroad and influencing environmental and sustainability governance. 
We asked them about their Cynnig Cymraeg and the benefits that comes from receiving this award. 
Why is it important that you have received the Cynnig Cymraeg? 
Although WWF is an international organisation, its success depends on working within and with communities and individuals. Respect is one of WWF's key values. Wherever we work we aim to show respect for the culture, language and traditions of communities. 
From the time when WWF Cymru was founded in 2000, operating bilingually was a priority, giving equal importance to Welsh and English. Building on the original Welsh Language Policy, our Cynnig Cymraeg will reiterate and confirm WWF's commitment to implementing and promoting the Welsh language, not only in Wales but across the UK. 
Has the Cynnig Cymraeg made a difference to your work? 
Definitely, as part of an international organisation having the Cynnig Cymraeg in place gives staff clear guidelines on how to operate and provide services in Wales and gives the language official status. Although staff who live and work in Wales are familiar with this, this is not the case for those who work outside of Wales. 
By using the plan as a guide and a tool to persuade we have succeeded in influencing the content of huge campaigns across the UK such as Save our Wild Isles which was inspired by the BBC's Wild Isles series, as well as the People's Plan for Nature campaign. A range of marketing and communication materials were prepared which were not only bilingual, but also used vocabulary and images suitable for Wales. 
Here is the Director of WWF Cymru, Gareth Clubb talking about his journey with the language, and why he believes it is important for charities to operate bilingually in Wales. 
"I have been on a journey to learn the language: in my English-medium schools, with Welsh-speaking friends, living in areas where Welsh was heard every day, and working through the Welsh language. It has been a journey full of fun and satisfaction, opening doors and windows that I was unaware of when I started. The Welsh language is extremely important to us as a charity. We have a strong desire to communicate effectively, and to persuade people in all parts of Wales, and those who make decisions that affect the natural world and the environment and the people who live in it. Long live WWF Cymraeg's Cynnig Cymraeg, and long live the language that has been such an important part our environment for hundreds of years." 
And this is the response of the Chief Executive of WWF-UK, Tanya Steele to the Cynnig Cymraeg. 
"At WWF our mission is to create a world where people and wildlife can thrive together and our success depends on working in and with communities and individuals. Wherever we work we aim to demonstrate a deep respect for the culture, language and traditions of the communities. With this new Cynnig Cymraeg (Welsh Offer) we are proud to be building on a solid foundation of providing a wide range of Welsh language services and acknowledging its importance in UK heritage and most importantly, its future."   
What three things does WWF Cymru offer in Welsh? 
WWF Cymru's social media channels are fully bilingual and Welsh medium inquiries are answered in Welsh.

 

All the communications, newsletters, job advertisements or marketing materials you see from WWF Cymru are fully bilingual.

 

All members of staff receive support and encouragement to learn Welsh.